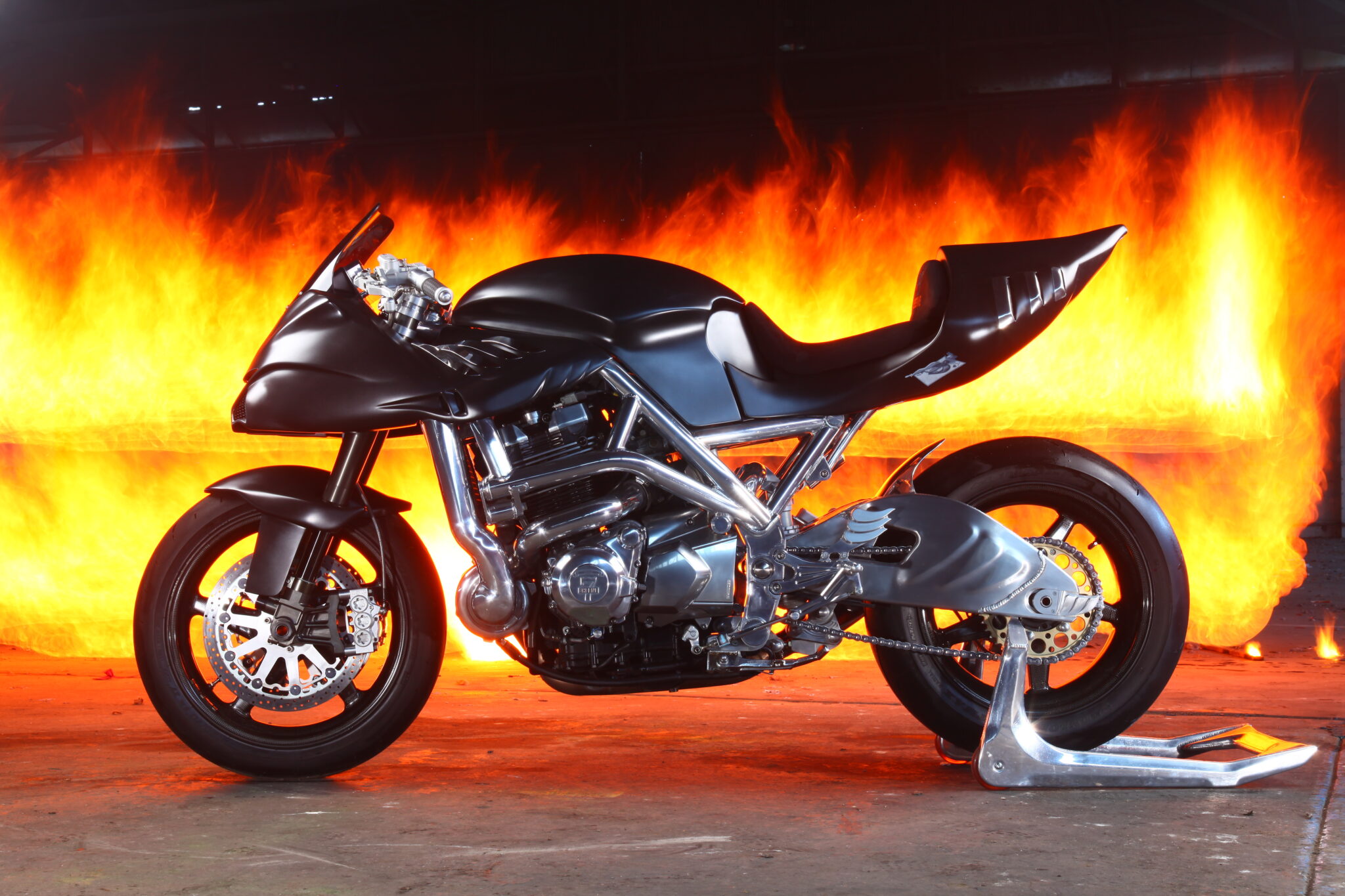 The Ultrabike Has

Dawned

The Icon Sheene has recently designed engine casings for the newly developed slip-lock clutch system. The Turbocharged 252 bhp engine under prolonged tests was causing the heavy-duty clutch to struggle slightly. So, it went back to the drawing board! An entirely new clutch has been fabricated and this has also necessitated new aluminium engine casings to accept the beefed-up clutch. The final version you see here is complete with beautiful engravings with the famous Barry Sheene 'Daffy Duck' logo he became famous for.

 

Due to the COVID19 Pandemic, sadly this year the IconSheene Turbocharged bike hasn't been doing the usual public events and track displays, but we hope to get it out and about soon. We will notify via the web site the next event we will be attending, we hope this year!

The Sheene Ultrabike is a collaboration with the Sheene family, engineers, mechanics, and friends of Barry throughout his life and racing career. It is a unique tribute to a unique Icon and this is your chance to become part of his legacy.

This amazing bike has been designed for easy handling and has been tested by the best. You can ride it on the road for touring or for the ultimate thrill, you can take it onto the race track. It is so rideable.

Production is limited to 52 worldwide. Each bike is hand built and tailored to your build and specifications.

At the fitting meet Steve Parrish and the creator Andrew Morris. Order yours now to become part of the exclusive Sheene 52 club.
The Icon Sheene is a work of passion, inspired by one of motorcycling's most charismatic figures, Barry Sheene. The influence of Barry and all that he stood for is reflected in every aspect of the Icon Sheene, the world first ultrabike; the connection is evident not just in our choice of components, but also in the world-class engineers we've enlisted to provide the technical assistance and in the enthusiastic support we've received from Barry's family and friends.
Part of Barry's extraordinary charm was that he brought out the best in people; this uplifting spirit infused everyone associated with the Icon Sheene throughout its development and as a consequence it has exceeded our expectations. So when we call it an ultrabike, we do so with a very good reason.
ENGINE
Barry Sheene won two world championships riding for Suzuki, so we start with a Suzuki 1400cc engine. Only we change it, lots, give it a Garrett turbocharger for starters, Carrello con-rod, Wiseco pistons. A Motech formula one wiring system with data-logging and mapping adjustment. Keeping things cool with a pair of hand crafted aluminium oil coolers and much more.
It's a complex piece of engineering, but very much worth it. Running comparatively low boost – a modest 0.4-bar – we achieve 250bhp at the rear wheel and an extraordinary 133lb ft of torque. By our reckoning these outputs make the icon Sheene the most powerful production motorcycle in the world. Should we be wrong we can always turn up the boost…
CHASSIS
From the outset we knew the Icon Sheene would have extraordinary performance. So in co-ordination with Barry Sheene's trusted frame-builder, we engineered a bespoke tubular aluminium frame to efficiently harness all that power. Meanwhile, we hand crafted a unique swinging arm which features a unique axle lifting system and novel integral polished hugger. Race Specification forks and adjustable rear shock complement the rest of the package.
A dream set up? We think so. This is one super-agile bike. Truly able to make the best use of its colossal power thanks to suspension settings and steering geometry that are near-perfect. But despite its race-spec components, it shines on the road. You can ride it hard – all day long.
DESIGN
Visually, the Icon Sheene shouts. Screams. It's deliberately outrageous joyously rebellious. The craftsmanship is superb. The tank is hand beaten aluminium; it takes a month to make. The fairings are hand-laid carbon fibre with hidden fizings so as not to interrupt the flowing lines of the bike. Check out the welds, the castings, the nuts and bolts. Quality and attention to detail in every component. It's like jewelry, only much, much quicker.
Every buyer of an Icon Sheene will enjoy a custom fitting session before build commences; it's also a chance to meet our chief development rider and Barry Sheene's teammate and best friend, Steve Parrish. Each bike features a hand painted image of a playing card, held by a bikini clad girl; each will be different and as there are 52 cards in a pack, that's how many Icon Sheenes are being made. The artist responsible for the cars and for painting the exclusive Icon Sheene helmet available optionally to owners only, is Mike Fairholme, the man who painted Sheen's own helmets.